By Danette Delorme, House Manager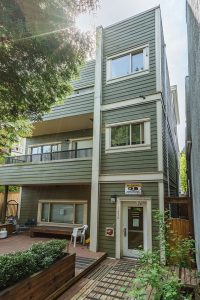 Naa-na-himyis Brothers' Healing Lodge is an Indigenous community residential facility for Men following the Indigenous traditional healing path. Our Lodge has 17 beds, 3 double rooms and 11 single rooms.
Once you arrive to the Lodge an intake is done, all Brothers coming in must spend 3 days in-house for orientation. This is a time to settle in and get used to a new environment, meet with the staff and your Parole Officer.
The Lodge operates 24/7 and we have an open-door policy, all former Brothers are welcome to come by for a visit, maybe for a meal or just for a coffee and a chat.
We have many programs to offer, we have Sweat Lodge ceremonies, healing and sharing circles. The Elder/Spiritual Advisors share their teachings and have one on one counseling sessions. We have Pre-Employment, Housing, Peer Support programs.
With our Circle of Healing program, they now have blanket ceremonies for the brothers that have left our program in a positive way. They have a sharing circle with the Elder/Spiritual Advisor and a few of the staff.
We love to celebrate and have many celebrations, we celebrate Birthdays, Easter, Halloween, and Christmas. We have pool, bowling, movie nights and once in a while we receive tickets to the hockey or football games.
Our goal is to provide support and services to the brothers coming out of the Institutions and help them re-integrate back into the community and to give them the tools to continue on to live a healthy productive life out on their own.
If you are interested in coming to Naa-na-himyis Healing Lodge you fill out an application, call us at 604 874-9610 or by email at
admin@circleofeagles.com.
---