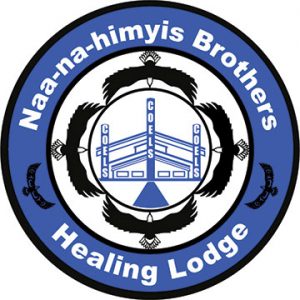 Background
Naa-Na-Himyis Brothers Healing Lodge was formerly known as the Circle of Eagles Brothers Lodge.  In March 2019, the lodge name was formerly changed in honor of Marge White, who was the founding President and former Executive Director of the Circle of Eagles Lodge Society. 
Description
The Naa-na-himyis Brothers Healing Lodge is located at 1470 East Broadway in Vancouver. Staffed and supervised 24 hours, the Lodge has 17 beds, 3 double rooms and 11 single rooms. It is not wheelchair accessible. The Naa-na-himyis Brothers Healing Lodge contains one industrial sized kitchen, four full bathrooms- two on each floor, free laundry facilities, cable television in the dining room, in the rooms, and the common room; and a phone. 

Programs and Services
Naa-Na-Himyis Brothers Healing Lodge provides culturally relevant services and supports including Elders, Sweat Lodge, Smudging, Canoe Teachings and Protocols, Feasts, Pipe Ceremonies, and Sharing Circles.  COELS also provides a Pre-employment training program, Circle of Healing Support Network, Housing Program to prepare for living on own, Camp Potlatch, Spiritual Advisor, and a cooking program. More information on these Programs and Services are available in this manual.  
Close by amenities
Public transportation is accessible (Skytrain and bus), close to community centres, library, post-secondary schools, including the Native Education Centre, Vancouver Aboriginal Friendship Centre, and Native Courtworkers. 
Eligibility
Indigenous males, or Non-Indigenous males who are following the Red Path, 19+, ETA's/ UTA's and Work Release accepted.

Terms and Conditions
Brothers are always expected to conduct themselves in a respectful manner as is required and demonstrated by everyone in the organization, including Board, staff, Brothers, and visitors.

   

Brothers newly arrived must spend 3 full days inside the Lodge for orientation even if they are transferring from another CRF. They will meet with their case manager, Circle of Healing Outreach worker, Pre-employment Coordinator, Peer Support Worker, apply for IDs, meet with Parole Officer and prepare and identify their needs to implement their action plan.

 

Curfew: once house orientation is complete curfew is Sunday to Thursday 11:00PM. Fridays, Saturdays and holidays is 12:30AM. (Alarm system is activated during curfew hours).

 

Parole Officers may impose their own curfew as per individual requirements.

 

Meals are provided, dinners are made by staff daily, and Brothers are responsible for cooking their own breakfast and lunch's.

 

All other times staff prepare the meals.

 

Weekend Pass System: Parole Board of Canada and Parole Officer may grant weekend passes after four (4) weeks of residency provided there is a positive Community Assessment.

 

One weekend pass if granted after one month, two after two months, etc.)

 

Brothers are expected to be working, seeking employment and or taking part in educational opportunities.

 

All Brothers must be awake by 7:00AM and ready for the day by 8:00AM.
All Brothers must attend 5:00PM dinner and house count or have written permission from their Parole Officer that they have been excused. A resident may not leave and return at curfew, they must be seen at least once during the day.

 

All Brothers must attend Brothers / Staff house meetings.
There is a zero-tolerance policy at the Lodge for violence and profanity.
All Medications must be delivered to the house.
No smoking or vaping in the house.

 

Zero tolerance towards alcohol and drugs.
All guests must sign in at the office, guests are to leave by 10:00PM and are to follow Lodge rules and regulations. Guests are NOT allowed upstairs.

 
COEL Brothers' Lodge Programs
Life Skills Program
Sweat Lodge Ceremonies
Elder Counseling
Personal Development
Recovery Program
Circle of Healing Program
COELS Pre-Employment Program
One-to-one counseling
Cultural Teachings
Health and Nutrition
Physical exercise
Household maintenance