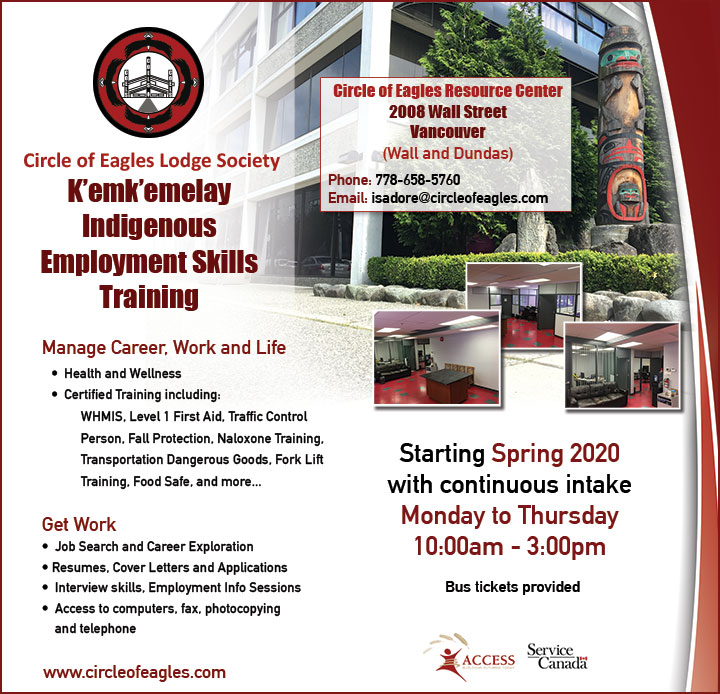 COELS PEP (Circle of Eagles Lodge Society Pre-employment) is a program designed to provide basic knowledge, tools and skills to enter a workplace environment. We work alongside our Aboriginal Brothers and Sisters who are looking to transition into sustainable employment or to continue their education. From single parents, people in recovery, people that don't have stability or any other resources, have never worked, or have been unable to keep employment.
Our purpose is to build on the needs and capability to work with each person on an individual and a group setting. We look for strengths and teach assorted skills along with what can be brought into the workplace. We work in a safe, drug and alcohol-free environment for the safety of our staff, participants, and others. We want to open the door of knowledge and skills to gain employment each individual will find helpful in their journey to success.
We assist in finding volunteer positions and encourage our participants to volunteer if possible to gain knowledge in their field of interest to see if that is the career choice they wish to pursue. In our class we review what a workplace requires, from dress code, time management, schedules, workplace mannerism, professionalism and network with a variety of people. We also give the participants guidance to see their options or alternatives that available, by taking them out to library tours, school tours such as BCIT, NVIT, UBC, SFU, Native Education College. To show the possibilities of going back to school to finish their education, further their education, start a trades program or an apprenticeship program. We look at paths to explore to carry forward and set goals towards a successful career path.
In our 12 week program with the participants we offer basic skills:
Computer skills,
Resume writing,
Cover letters,
Mock interviews,
Food Skills for Families,
Job Well Done,
Dollars and Sense,
Journal writing,
Basic math / English review
First Aid Training/ CPR-C
Hearing Test
Traffic Control Person
Serving It Right
Food Safe
WHIMIS
Learners License
Pre-employment focuses on providing all basic needs and knowledge to gain employment for both Men and Women. We also, help establish proper identification and dress code to enter the workforce. We encourage tradition/cultural activities such as dream catchers, beading, making key chains, mini button blankets and start our day with an opening circle with smudge.
To apply please contact us at:
coelspep@gmail.com
604-559-7063
or visit us on Facebook